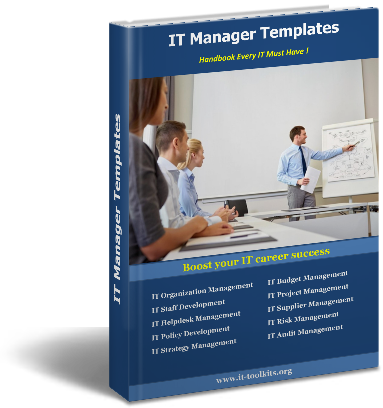 IT Manager to lead a team of IT experts, infrastructure servers, databases, and business applications software. Besides IT Manager needs to understand the business domain, capable of clearly communicating. The role of an IT Manager also requires knowledge and skills in strategic planning, allocation of resources and policies. The content in this E-book include:

Part1. IT Organization Management
Part2. IT Staff Development
Part3. IT Helpdesk Management
Part4. IT Policy Development
Part5. IT Strategy Management
Part6. IT Budget Management
Part7. IT Project Management
Part8. IT Supplier Management
Part9. IT Risk Management
Part10. IT Audit Management

One of the specific activities of IT administration in the enterprise are: Installation, monitoring and maintenance of infrastructure systems, including PC Desktop, Server, Network, Data Backup, Database and solve the system problem.
To cover all these activities that require IT administrator does not only has the knowledge, experience, technical skills, but also they must write documents and professional profile of IT system.
With these tools will assist in managing all activities related to technical hardware systems to ensure stable system operation, reduce downtime, capacity control system as well as improve high availability.