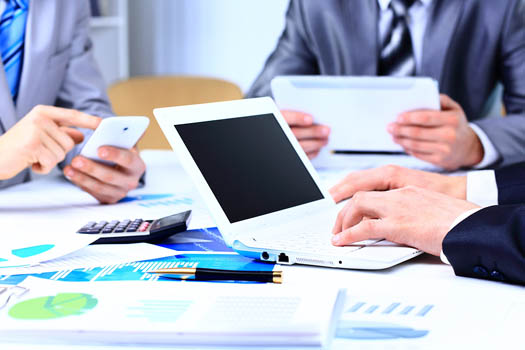 According to Gartner, "IT governance is the set of processes that ensure the effective and efficient use of IT in enabling an organization to achieve its goals." Typically, IT governance is the responsibility of C-level executives. But, IT managers can still use the principles of IT governance to keep the department moving forward.
Depending on the size of your organization, you may want to suggest the company put into practice a formal IT governance framework, such as Control Objectives for Information and Related Technology (COBIT).  If it's just you running the show, keep a list of guidelines handy to remind you of what you should focus on as a manager instead of adopting a highly-structured framework.
There are five principles of IT governance:
Align IT with the organization's overall goals. In other words, make sure IT is on the same page as the rest of the organization by regularly communicating with the company's executives. Make sure that what you're doing is helping the business achieve its goals.
Make sure your projects and investments deliver on the value promised at the outset. This requires follow-up and monitoring. When something's clearly benefiting the organization, keep it going; if something's not delivering the results you're looking for, get rid of it.
Manage your resources wisely, including your employees. Look for ways to take advantage of their individual strengths.
Actively manage risk. Take the time to understand the risks involved in each area of your operations and do all that you can to minimize them. Stay up-to-date on the latest cyber threats and any regulations your industry must follow.
Track your performance. Use metrics to demonstrate your department's value to the organization. Metrics have the added benefit of telling you whether you're meeting your performance goals and what areas need attention.
IT management software
Many software tools are available to help IT managers wrangle the numerous devices and connections the department oversees. Here are the top management tools experts recommend for small, medium and large organizations:
Small to mid-size businesses
SmallBusinessComputing.com took an in-depth look at Spiceworks and gave it a thumbs-up. The free (advertising-supported) network management software, the latest version of which supports up to 1,000 devices, includes inventorying, monitoring, reporting, and task-tracking capabilities (via a help desk module). The company does offer an ad-free version for a minimal monthly fee. SmallBusinessComputing.com says it's an impressive tool and a "remarkable value."
PCMag.com gave cloud-based Panorama9 a very good rating. The software is installed on one computer which acts as a server that gathers information from the other computers on the domain using Microsoft's Active Directory before transferring it to the cloud platform (a feature that sets it apart from other IT management software). From there, administrators can monitor "company assets, availability, security vulnerabilities, and compliance. All the information…is automatically gathered and rolled up in a high-level overview. Administrators can easily drill down to find the precise issue and the actual machine." The cost is a monthly subscription fee based on the number of devices. There is a free version available for one user only.
Enterprise-level network management tools
Network World recently reviewed network management software from HP, IBM, and CA and said any one of the three will help large organizations solve network problems quickly and save companies money. Here's some of what Network World reported:
HP – Automated Network Management – "Flawless, scalable, modular"

Can identify more than 2,000 network objects from over 50 major hardware vendors
The browser-based user interface is "responsive, thoughtfully designed and highly configurable"
Runs on Windows Server 2003, Windows Server 2008, Red Hat Enterprise Linux and Solaris

IBM – Tivoli Netcool/OMNIbus and Tivoli Network Manager IP Edition – "Highly scalable, excellent problem solving abilities, highly configurable and integrates well with other systems"

Can identify more than 600 network objects
The browser-based interface is also highly configurable, but "somewhat cumbersome and not as responsive" as the reviewers would've liked
Runs on Solaris, HP-UX, AIX, Windows Server 2003, Windows Server 2008, Red Hat Enterprise Linux, SLED, SuSE Linux Enterprise Server and VmWare ESX for Red Hat Enterprise Linux

CA Technologies – CA eHealth and CA NetQoS ReporterAnalyzer – "Powerful predictive analysis, excellent reporting features"

Can identify more than 5,000 network objects
The user interface is a central console that "graphically depicts the entire network or any portion of it," and features the ability to generate instant reports that are "informative, easy to understand and easy to produce"
Runs on Windows Server 2003 and Solaris