7 Components of a Successful IT budget

As a CIO (or anyone else who has to manage technology for companies), you're going to have to keep track of business IT trends all the time. We at Etelesolv love to help you make your job easier, and that's why we're bringing you a summary and some analysis of  Spiceworks'  latest IT budget report for 2015.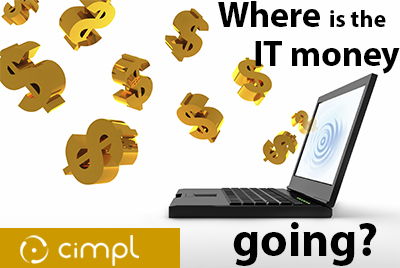 Spiceworks' study was created by gathering the  opinions of over 600 IT leaders across the world, representing diverse industries such as manufacturing (15%), Education (12%), and Health Care (9%) among many others. The report touches on many important areas.Read on to see what the numbers say!
Spending
Spending is increasing, but so is the variety of available and useful technology that's vying for that spend. It's become more important than ever for people to learn how to stretch their IT budget. It'll be even more important in 2015: Only one third (33%) of polled IT experts predicts their budget to expand this year (a decrease from the 42% which was predicted for this time last year). For those who will be getting an increase, it's going to be small (and smaller than expected). Once again: "Stretch IT budget" is the order of the day!
The average total IT spending was determined to be $291,062, and will be allocated as follows:
Hardware projects: 41%
Software projects: 33%
Cloud-based services projects: 12%
Managed services projects: 10%
Unknown: 3%
In terms of budget priorities, hardware and software top the chart because IT pros will mainly focus on refreshing aging equipment. They really won't be taking on many new projects:
Laptop/Desktop: 44%
Software: 42%
Storage: 35%
Virtualization: 34%
Networking: 32%
Physical servers: 31%
Security: 27%
Cloud-based servers: 23%
Mobile: 13%
Top 3 priorities for each category
Now that we have seen the main segments of the 2015 IT budget, let's take a look of what each category actually includes.
Hardware: Physical hardware budget represents the biggest chunk of the overall budget for IT (41%), and it's going toward equipment renewals:
Desktops (20%)
Servers (19%)
Networking: Wireless, routers and switches (10%)
Software: Of the 33% of the budget that was allocated to software. The key priorities are:
OS upgrades (17%)
Productivity projects (16%)
Virtualization services (14%)
Cloud: IT pros predict the 12% cloud-based services budget to be distributed among:
Email hosting (18%)
Web hosting (16%)
Online backup/recovery (13%)
Managed services: The  total IT budget for managed services will be spent on:
IT services (19%)
Consulting (16%)
Connectivity/bandwidth (16%)